'Count Leo Tolstoy's influence on Mahatma Gandhi's life, work and leadership' by Dr Shobhana Radhakrishna (video)
Dr Shobhana Radhakrishna is Chief Functionary, Gandhian Forum for Ethical Corporate Governance, India. The talk attempts to provide some principles, ideas, and alternatives that can help us in our quest for more excellent substance and also help address the pressing social and ecological challenges of our times. Dr Shobhana Radhakrishna spoke about the life of one of the extraordinary individuals, Mahatma Gandhi, and his lessons of personal growth and transformation. The event was organized jointly with the Embassy of India in Moscow.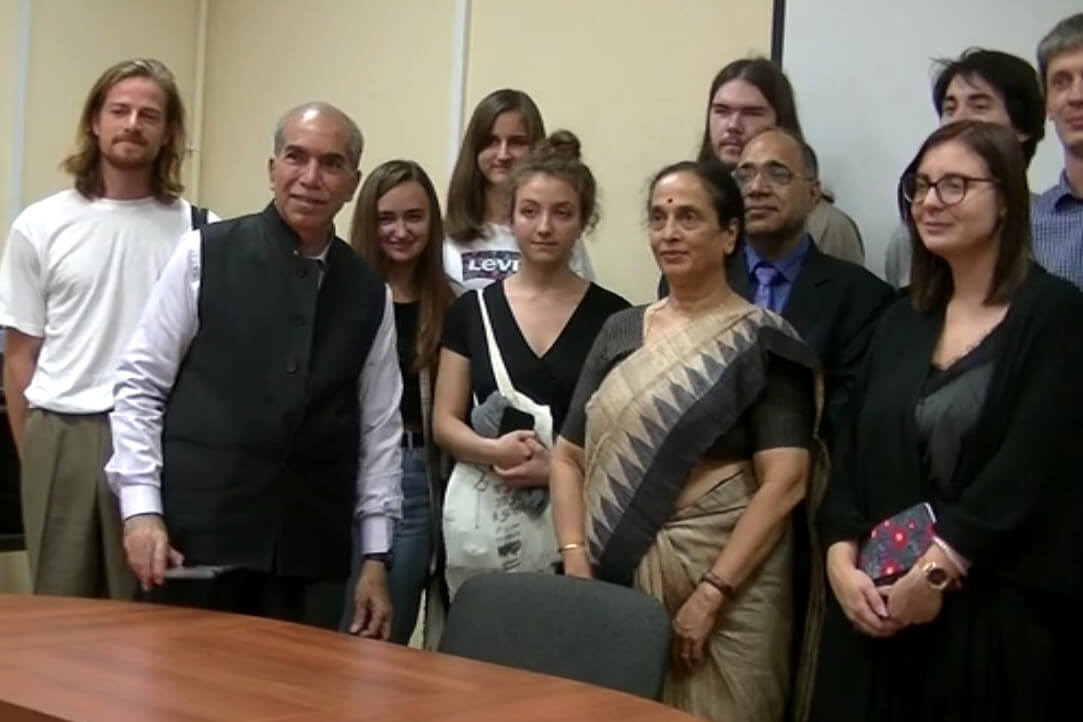 Mahatma Gandhi is the most well‑known Indian in the world. His life was one of dedication and simplicity, and he valued non‑violence, peace, truth, and purity of means as the guiding principles of his life. He followed the inner voice that guided him throughout his life. Mahatma Gandhi displayed the ability to lift the question of morals from that of the personal, and transform it into a problem that reflects and impacts the ethics of all of humanity. There are few among the 20th‑century leaders who can measure up to the standards set by Mahatma Gandhi in the practice of ethical leadership. Mahatma Gandhi's thought and principles can guide the people in any part of the world as it has the strength to inspire and bring about change.
Video
The talk covers about aspects of how Mahatma Gandhi had found in Leo Tolstoy, a true mentor. Gandhi had read Tolstoy's The Kingdom of God is Within You at a time when he was experiencing deep religious churning. Gandhi had read his other literature as well. Tolstoy's ideas of non‑violence, love and non‑violent resistance attracted Gandhi and strengthened his actions of nonviolent civil disobedience called Satyagraha. Count Lev Nikolaevich Tolstoy is one of the great novelist, philosopher, pacifist, educational reformer, moral thinker, and a significant member of the Tolstoy family who greatly influenced Mahatma Gandhi.
He and Gandhi have been the two greatest exponents and practitioners of non‑violence and non‑violent resistance ‑ Satyagraha'‑ in this age. They had never met each other, and his contact with Tolstoy was through the exchange of letters. Tolstoy proclaimed the truth of 'non‑resistance' to stem the tide of mounting violence and greed in Europe around the turn of the 19th century. He was, however, spared the violence and destruction of World Wars I II, and the legacy of nuclear weapons that looms large over the world. Gandhi gave to the world the viable alternative of non‑violent resistance and sanctified it with his martyrdom.
The idea of Bread Labour attracted Gandhi much. In South Africa, he named the Transvaal Ashram as Tolstoy Farm and later in India at the Sabarmati and Ashram; he enshrined the concept of bread labour as one of the eleven vows. Tolstoy's last letter and his entries in his diary indicate that Tolstoy too had much admired Gandhi's work as a unique effort in non‑violent resistance.
The value‑based leadership espoused by Mahatma Gandhi in public life is a perfect model to be emulated in all spheres of our activities. Gandhian economics stands for a commitment to values, ethical leadership conduct, transparency and makes a distinction between personal and corporate funds in the management of a company. He is a supreme practical leader for change whose life can inspire and guide the modern and aspiring youth in building and leading an ethical and sustainable ecology. Gandhi envisioned a world that would evolve towards peace and harmony‑ a world where different religions, cultures, and peoples of the world would live together with mutual respect and tolerance, rather than in suspicion and hatred.
In a century marked by two world wars, the Holocaust, and the atomic bomb — when the world was torn apart by hate and intolerance — Tolstoy and Gandhi emerged as a powerful antithesis to man's cruelty and small‑mindedness. They became the voice of sanity and a beacon of hope for peace‑minded and tolerant individuals everywhere. The Gandhian thought of peace is worldwide acknowledged. The name of Gandhi is synonyms with peace & non‑violence. The lessons gleaned from Mahatma Gandhi's life, offer us invaluable advice on leading an enlightened life‑a more meaningful, self‑aware, socially responsible and saner life.